Semiconductor Fabs Can Get Electropolished Stainless Steel Tubing Quickly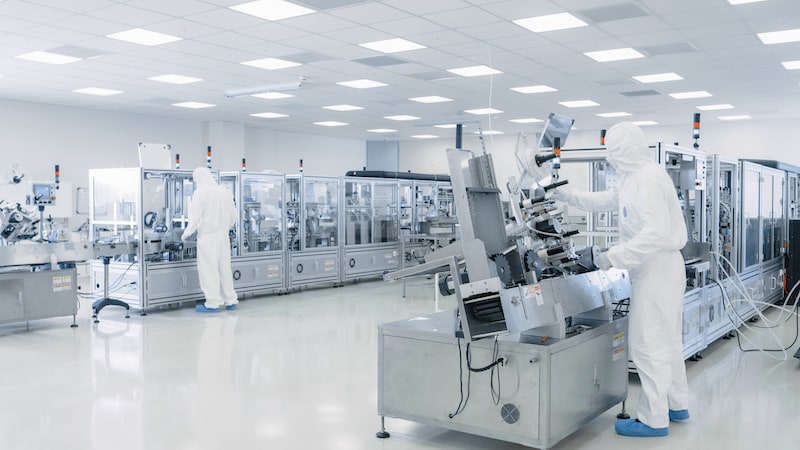 As semiconductors drive advances in ever-changing digital technology, there's also a growing demand for chips with higher functionality and memory storage. More fabricators are coming online, requiring reliable means to transport ultra-pure and ultra-high purity gases to etching, lithography and other essential equipment.
A lot is riding on contamination-free gases: Any impurity can affect the properties of nano- and micro-size transistors, diodes and integrated circuits and result in significant costs if a chip or wafer is compromised. Two factors play a significant role in the integrity of ultra-pure gases used in semiconductor fabs: reliable tubing and surface protection for that tubing.
When it comes to surface protection of metal tubing, electropolishing offers many advantages over mechanical surface processes. Until recently, this method has been difficult to pair with the gold standard for gas delivery in critical industries — seamless coil tubing. Thanks to partnerships, HandyTube can collaborate with customers to electropolish seamless coil tubing. Now, semiconductor fabs can ensure the purity of essential gases in a single procurement step.
Advantages of Electropolished Seamless Tubing
An electropolished tube surface ensures that ultra-pure gas does not change in chemical composition. That's because the surface goes through an electrochemical process whereby under the action of direct current, the metal goes through an electrolytic liquid, removing manufacturing particles as small as 10 to 15µ to reduce surface roughness and create a glossy, micro-smooth surface. Because the process is initiated only under the influence of current, the polishing can be carried out precisely according to your specifications. Advantages include:
No increase in particle counts for the gas, ensuring contamination prevention.
Corrosion prevention.
High chemical purity and chemical passivity.
Less friction and wear.
Advantages of Using Seamless Coil Stainless Steel Tubing
Seamless stainless steel coil tubing from HandyTube is well-suited for new fab construction. We produce 316L-grade stainless steel tubes in long lengths. Conventional tubing is manufactured in 20-foot lengths that ultimately must be joined to reach the distances needed to connect semiconductor equipment to a distant gas source. By producing much longer tubes, few welds are required, dramatically minimizing opportunities for contamination or leaks. Long-length seamless tubing reduces costly labor associated with inspecting welds, and installation is fast.
Semiconductor fab builders can be confident that their HandyTube seamless coil tubing and electropolished surface will meet their standards for uncompromising quality and gas purity. Here are just some of the quality assurances and benefits:
HandyTube seamless steel tubing with electropolished finish meets essential semiconductor industry standards such as SEMI F19, F60 and others.
Tubes are made in the USA at HandyTube's ISO-9001-certified facility.
Each tube undergoes third-party lab testing.
Tubing can be available from stock for quick delivery within four to six weeks, so new fabs don't incur the expense and downtime associated with waiting for other types of tubing.
Obtain Electropolished Seamless Tubing in One Step
For new semiconductor fabs, transporting ultra-pure and ultra-high purity gases without compromising chip or wafer quality has become a critical link to begin production. Not only does the tube have to resist contamination and corrosion, it has to be readily available and easy to install. HandyTube now gives semiconductor fabricators a means of procuring reliable, seamless electropolished coil or straight tubing in one step and the confidence to get up and running quickly while meeting the industry's stringent purity and quality requirements.
For more information about electropolished seamless stainless steel tubing, contact us.