Extensive Testing Ensures Our Coiled Tubing Meets Your Requirements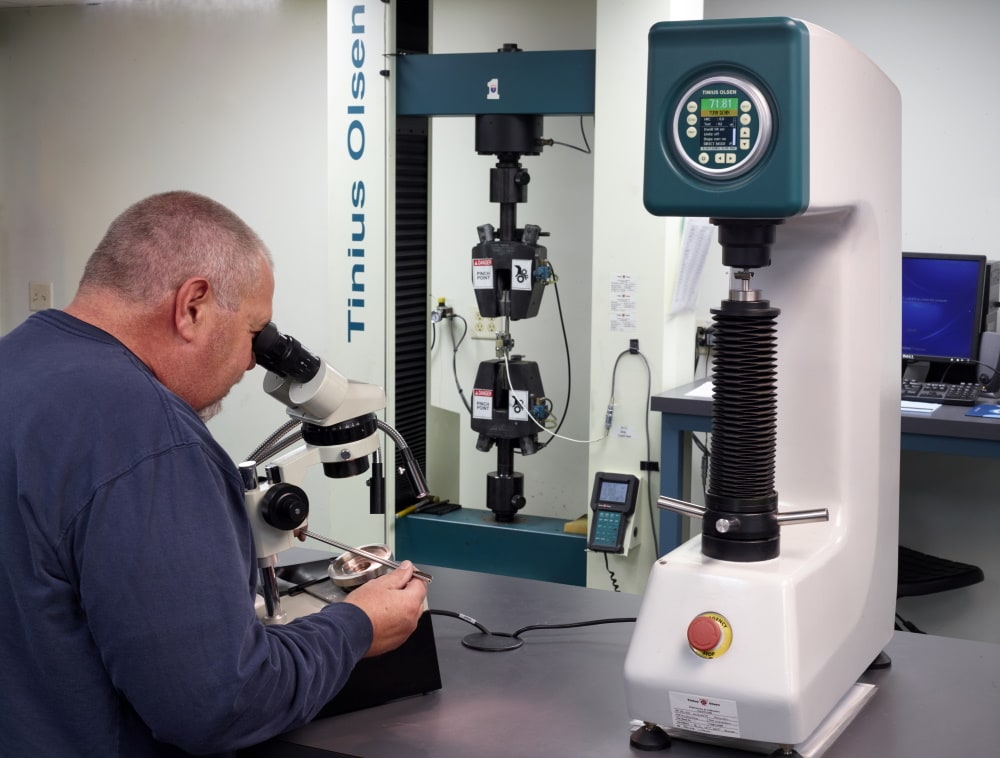 The tubing you select to transport vital liquids and gases must deliver uncompromising performance and reliability. Not only must it have proper smoothness and dimensional tolerances, it must also stand up to challenges like high pressures or temperatures, difficult-to-transport media and harsh environmental conditions. Because optimal media flow and tube reliability come down to manufacturing quality and precision, your tube selection criteria should include your supplier's testing capabilities. 
When you partner with a tube manufacturer with extensive test capabilities, your tubes will provide a longer service life to keep your systems running. At HandyTube, we manufacture made-to-order stainless steel tubing and perform a broad range of product tests at our ISO-9001-certified facility. Our expert engineering staff work to ensure the tubes you select will satisfy your requirements and give you the lifetime and performance you expect.
These are just some of our testing capabilities:
Hydrostatic testing. We fill a section of tubing with water, seal one end and pressurize the tube from the opposite end to a specified pressure greater than the normal operating pressure. Our technicians observe the tubing for leaks and pressure loss.
Surface roughness testing. To ensure smooth outer or inner diameter surfaces, tube measurements are taken by a surfometer and verified against certified roughness standards.
Dimensional analysis. Using a variety of calibrated micrometer and gauge pins, we measure the outer diameter, inner diameter and wall thickness.
Positive material identification (PMI). We analyze metallic samples to verify the material grade, typically via X-ray fluorescence (XRF). Every tube we manufacture undergoes PMI testing before shipping.
Yield strength testing. We determine the stress at which a specific amount of plastic deformation is produced.
Tensile strength. This test ensures the material you choose can sustain the required application pressure. A material's tensile strength is the maximum amount of tensile stress that the material can withstand. Tensile testing also measures the elongation, or ductility, of the material to gauge the amount of strain deformation it can handle before failure. We pressure-test 100 percent of all the coils we produce.
Hardness. The Rockwell test determines material hardness by measuring the indentation depth made by an indenter under a large load versus a preload.
We also perform split flow testing to look for blockages and eddy current testing to detect flaws, plus hydraulic diameter and grain size testing. In addition to performing these and other tests in-house in our climate-controlled laboratory, we partner with many other laboratories and testing facilities to offer you ultrasonic and corrosion-resistance testing.
Traceability Throughout the Process
Our manufacturing process is traceable from start to finish. When materials arrive, we inspect them and retain samples from every lot for independent verification. And, upon receipt of your order, we label it with your outer and inner diameter tolerance requirements and mechanical properties for tracking. 
Our test capabilities, expertise and traceability ensure you receive tubing of the highest quality, made to your precise specifications. Be sure to discuss your needs with us early to receive the best possible tubing to meet your application needs.