Meet Jeffrey Farris, HandyTube's Vice President and Business Segment Leader for Aerospace & Defense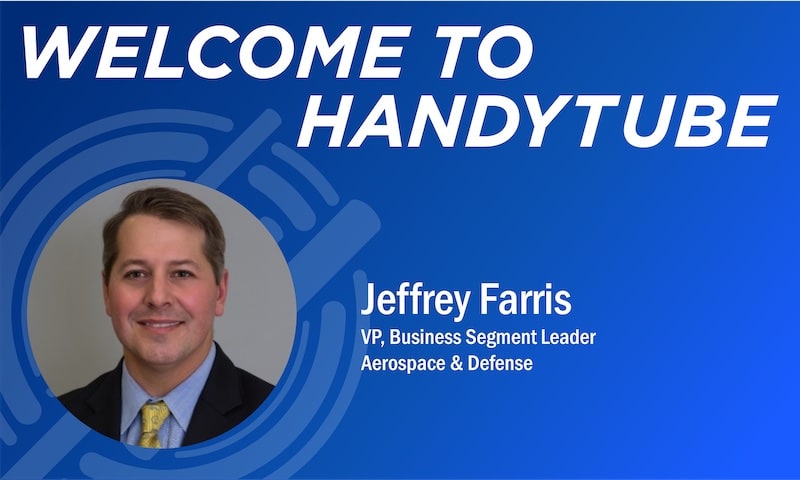 HandyTube Corporation is pleased to announce it has hired Jeffrey Farris as Vice President, Business Segment Leader. Jeffrey will be responsible for delivering the overall strategy for our Aerospace & Defense Segment including strategic planning, business development and growth plans.
For the last 20 years, Jeffrey has worked directly with OEMs, Tier 1 and Sub-tier suppliers and MRO clients in the aerospace and defense industry across a variety of sales, marketing and customer service roles. He has a history of solutions-based selling and winning business across numerous commercial aerospace, space and military programs. As Director of Sales and Marketing at StandardAero, his accomplishments include:
The completion of three separate high value deals with Honeywell consisting of an AWARS licensing agreement for legacy aircraft accessories.
A brand-new Distribution & MRO agreement with Honeywell for numerous 737 MAX and 787 GEnx accessories.
As a strategic business unit leader at Technetics, where he managed P&L through a matrix organizational structure, Jeffrey successfully created and measured KPIs, implemented CRM dashboard tools, solved operational issues and allocated engineering and program management resources to win high value opportunities. Jeffrey earned his B.S. in Mechanical Engineering at North Carolina State University.
Known for instilling pride and ownership among multicultural team members, Jeffrey is highly skillful at developing, coaching and leading sales personnel. These talents, combined with a wealth of aerospace & defense industry experience, make Jeffrey an excellent resource for customers and our team.
To get in touch with Jeffrey, contact us.