Seamless Coil Steel Tubing Is Well-Suited for Space Exploration Applications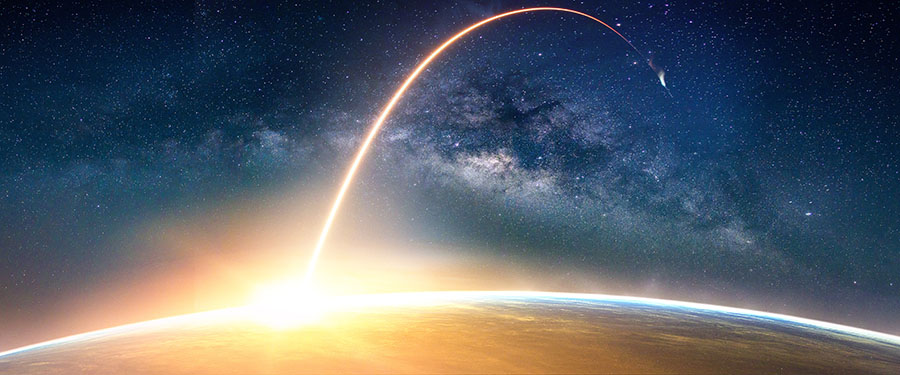 As more commercial entities enter the space exploration market than ever before, the types of spacecraft and their missions have become increasingly diverse. While not every spacecraft is alike, most need steel tubing to carry critical liquids and gases for various systems. That's why the tube supplier you choose should have a wealth of experience and expertise providing products for a broad range of spacecraft.
HandyTube's advanced manufacturing processes are well-suited for delivering safe, reliable tubing that meets the changing needs of the aerospace industry. For example, until recently spacecraft manufacturers were limited to joining short sticks together via welds in order to achieve a desired length. HandyTube, however, manufacturers long lengths of seamless coil tubing that can be cut to desired lengths, offering spacecraft manufacturers more flexibility for diverse spacecraft installations.
Reliable for a Wide Range of Space Applications
Seamless coil tubing is safer, more reliable and easier to install than straight, welded tubing. Because our coil tubing is seamless, there are far fewer potential points of failure that could otherwise jeopardize human passengers or valuable cargo. And, it will last a long time in today's reusable spacecraft.
Our tubes are particularly appropriate for nozzle tubing where multiple long coiled tubes can be combined into a master assembly and formed into the shape of a nozzle. You'll also find HandyTube products in fuel delivery and transfer systems for rocket motors that use elements such as hydrogen or liquid oxygen in compressed form. HandyTube products can be found in satellites and other crafts in all four geocentric orbit classifications. Our long length tubes are especially desirable in ground support applications for fuel and oxygen transport or as conduits for electrical wires for launch towers.
Here's how HandyTube ensures the highest quality steel tubing for your space applications:
High-performance materials. HandyTube uses Inconel 625, known for its high strength and high temperature resistance, and 300 series stainless steel which withstands high pressures and temperatures.
Traceability. Our entire manufacturing process is traceable. All incoming coil materials are inspected, and samples are independently verified. Each coil is 100% hydrotested before shipping.
Clean. HandyTube uses proprietary cleaning methods to make sure no foreign debris contaminates the tube.
Accuracy. Drawing steel tubes in coil forms achieves precise outer and inner diameters with tight tolerances.
Surface enhancements. Coiled tubing is available with various coatings and electropolishing options to ensure smooth surface finishes.
Custom capabilities. Whether you need a unique alloy tube, custom-cut lengths or in-between-size diameters, HandyTube will make sure you receive the right tube product for the job.
Safe Coil Tubing for an Ever-Changing Industry
In the space exploration industry, changes are happening fast. And when it comes to installing tubing, you need a tube supplier that is capable of serving a broad range of needs. HandyTube has long been at the forefront of the ever-changing space industry by providing safe, long length seamless coil tubing for a wide variety of spacecraft as well as ground systems. When your space application requires steel tubing, you can choose HandyTube with confidence because we have proven expertise in the space industry.
For more information about HandyTube seamless steel tubing for space exploration applications, visit our industry page.